2002 News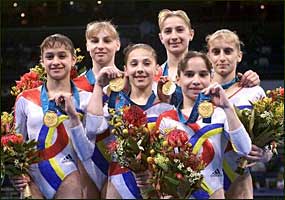 2000 Olympic Team Champions
Simona Amanar, Maria Olaru, Claudia Presacan,
Andreea Isarescu, Andreea Raducan, Loredana Boboc


May
Junior European Results: 2nd Team; Leonida-2nd A-A, 1st BB, 2nd FX; Rosu-3rd V, 3rd FX; Chindea-2nd V; Eremia-4th BB
Senior European Results: Petrovschi-5th A-A, 3rd V
Senior Men: 1st Team; Potra-1st A-A, 8th FX, 8th Rings; Dragulescu-1st V, 3rd FX; Urzica-1st PH, 7th HB, 7th PB; Suicui-2nd PH, 4th V
Junior Men: Adrian Ionescu-1st FX,7th V; Iulian Ion-Radutiu-7th PH; Cosmin Popescu-8th PH; Ciprian Veres-3rd Rings;
April
Members of the senior team returned to their home clubs last month to recover from injuries and train on their own. According to Belu, they will have to pass some sort of test to be allowed to return to the national training center. This was brought on as a result of his dissatisfaction with their motivation and training habits. The one senior gymnast that was permitted to stay at Deva was Oana Petrovschi, who is injury-free and will represent Romania as the lone senior at this month's European Championships. Romania did send a full junior team to the competition. Iuliana Chindia, Alexandra Eremia, Florica Leonida, Monica Rosu, and Elena Velicu were selected for the squad.
In the Romanian International, an annual competition hosted in Ploesti, Leonida took first place, and Petrovschi second. Evgenia Kuznestsova(BUL) was third place.
Other big news of the moment is several age falsification accusations that have recently come about. Romanian newspapers that Gina Gogean and Alexandra Marinescu both had their age falsified to make them one year older. February
Simona Amanar, Claudia Presacan, Maria Olaru, Gina Gogean, and Lavinia Milosovici are planning to open their own gymnasium in Timisoara. I'm sure it's going to be very popular! Also, Simona is engaged to marry her boyfriend, Cosmin Tabara, on March 9. Cosmin is a lawyer and a consultant for a shoe factory in Timisoara.
Injury Update: Octavian Belu and Mariana Bitang are worried about the outlook for the upcoming European Championships. The only team members currently training are Andreea Ulmeanu, Oana Petrovschi, and Oana Ban. Ulmeanu is suffering from a problem with her wrist and Oana Ban has an injury to her foot. After much contemplation of retirement, Andreea Raducan has returned to training for now at least. She has much work to do to prepare for the Euros. On a better note, Andreea was voted "Woman of the Year" in Romania. Sabina Cojocar recently had shoulder surgery and resumed training. She recovered quicker than expected and if her training goes well, she might be prepared to compete at Euros. Loredana Boboc is currently in Bucharest for hydrotherapy and physiotherapy for her injured ankle, and Carmen Ionescu is recovering from knee surgery. Silvia Stroescu has a serious back injury, and went to Germany for treatment. Her doctors recomend that she do only light training exercises for 6 months, and then might possibly be able to train if her injury clears up. Madalina Rapeanu and Monica Rosu are now training with the national team in Deva. January 11
Claudia Presacan left the national rowing team during 2001
It's been rumored that Monica Sabau left the national training center at the beginning of January. Sabina Cojocar had shoulder surgery in the month of December and is going to Germany for more treatment. The necessary recovery time leaves her questionable for the 2002 Euros. Silvia Stroescu and Carmen Ionescu also have minor injuries. They will be training lightly during the upcoming month, but might not be able to participate in the Europeans. Competitions in the forecast for the team include the upcoming senior and junior European Championships, and the ATC in the US in the early summer. 2001 News
December 31
Juniors Madalina Rapeanu and Monica Rosu competed in the China Motor Cup and placed 7th and 10th in the all around, respectively. Selections for the senior team have been made for the upcoming year. The team is as follows: Oana Ban, Loredana Boboc, Sabina Cojocar, Carmen Ionescu, Oana Petrovschi, Andreea Raducan, Monica Sabau, Silvia Stroescu, Andreea Ulmeanu.
The junior and senior teams have been training for a week in in Poiana Brasov.
Sabina Cojocar and Andreea Raducan attended the Chunchi Cup, but due to their worn out condition, they only competed two event finals. Carmen Ionescu and Andreea Ulmeanu were previously scheduled for the DTB Cup, but pulled out. Andreea Raducan and Silvia Stroescu did not end up competing in Glasgow, and chose instead to attend ceremonies for awards they had won during the year. Sabina Cojocar had a recent shoulder surgery and her recovery might keep her out of the 2002 European Championships. November 3
Romania won the team gold medal! Congrats to the gymnasts and their coaches. Andreea Raducan placed third all around, Cojocar was sixth, and Stroescu 11th. Raducan placed 3rd in the vault final, and Ulmeanu was fifth.

October 31
Romania's Worlds Team was troubled by injuries before the team competition even began. Andreea Ulmeanu had a rough landing on a vault and bumped her lip on her knee, and took 8 stitches. Loredana Boboc injured her ankle, and had to take shots, and could not compete all four events as previously planned. Carmen Ionescu had some back troubles, but competed as well. The team placed first in prelims, and Raducan, Cojocar, and Stroescu qualified to the all around. Raducan and Ulmeanu qualified to the vault final, Raducan and Stroescu to the floor final, and Cojocar qualified to the balance beam final. October 27
The Romanian team left for Belgium on October 23rd. International Gymnast reported that the team looked confidant and secure in their routines during all the training sessions. The Romanians are the favorites to win the team competition. Since China did not send a full team to the meet, Russia is again their main competition. Unfortunatly for the Russians, Zamolodchikova is nursing a foot injury and Privalova did not participate in Podium Training due to her own injury. The schedule for the competition is as follows: October 27: Opening Ceremonies
October 28: Men's qualifying
October 29: Men's qualifying, Women's qualifying
October 30: Women's qualifying
October 31: Men's team finals, Women's team finals
November 1: Men's all around final
November 2: Women's all around final
November 3: Event Finals
November 4: Event Finals

October 12
Romania's team for the upcoming World Championships was announced as Raducan, Boboc, Cojocar, Stroescu, Ionescu, Ulmeanu, and alternate Monica Sabau. Now the only seven healthy seniors left at Deva, they will leave for Belgium in two weeks. It's been reported that Alexandra Barac's back injury was more serious then previously thought, and she has returned home to Sibui. Alexandra will have to undergo treatment, and possibly surgery. Doctors have said this most likely means retirement, but there is a chance she could return to gymnastics after the treatment. I wish the best of luck to Alexandra. Junior Melina Druta is nursing her knee injury in Bucharest after a recent surgery, but she will return to Deva in the near future. Elena Velicu has also had a knee surgery, but is on the road to recovery. Andreea Isarescu is still recovering from her own knee injury, and is still at Deva. Everyone is hopeful for her return to the sport. Cristina Sabau(elder cousin of Monica) has had trouble with injuries this year, and returned home to Baia Mare for to recuperate earlier this year. She competed at Nationals for her home club there, but unfortunately won't return to join the national team again.
September 22
Romanian Nationals were held this weekend. On the men's side, Dan Potra placed first, followed by Marian Dragulescu and Ion Sucui. For the women's, Sabina Cojocar and Silvia Stroescu tied for first place, followed by Andreea Raducan, Carmen Ionescu, Loredana Boboc, and Monica Sabau respectively. Oana Ban unfortunatly did not compete due to the injury she sustained in Japan. Although it's a minor injury, they did not want to risk it becoming more serious. Alexandra Barac and Andreea Ulmeanu sat out as well, still recovering from their injuries. Hopefully these two will be recovered in time for the World Championships.
September 12
Oana Ban ended up attending the junior competition in Japan this past weekend, instead of Andreea(Oana) Petrovschi, who was previously scheduled. Oana fell on her vault landing and finished third all around behind Gulnara Ziganshina(RUS) and Alina Kozich(UKR). She pulled out of event finals with an injury.
September 16
Romania travelled to the Netherlands for a dual meet this weekend. The team of Raducan, Stroescu, Ionescu, Cojocar, Boboc, and Sabau beat the Dutch by four points. Raducan has the highest all around total. Monica Sabau competed only on bars, but had the highest score on the team of a 9.312. Both Alexandra Barac and Andreea Ulmeanu missed the competition with injuries. Ulmeanu's thumb injury from the GWG is not completely healed, and Barac has a minor back injury. She was sent home to Sibiu to rest, but will return this week to prepare for nationals.
September 2
Sabina Cojocar and Marian Dragulescu both won gold medals in the all around competition of the Goodwill Games. Romania won a total of 6 gymnastics medals. Andreea Ulmeanu had to pull out of the all around after breaking her thumb during the vault final. She should be able to resume training on vault and floor in about a week and beam and bars a few weeks after that.
August 24
Andreea(Oana) Petrovschi will compete at the Jr. Japanese International, one of the most prestigious junior competitions. Illie Popescu is the Romanian junior going for the men's competition.
August 20
Romania won the dual meet with Great Britain this weekend, and the all around standings were: Cojocar, Stroescu, Ulmeanu.
Andreea Ulmeanu was selected to replace Andreea Raducan for the upcoming Goodwill Games. Raducan sustained a minor knee injury, and will stay home to assure her best health for the worlds this fall.
Oana Ban is the only Romanian invited to this year's Chunchi Cup
Twelve year old Alexandra Huci passed away this morning. Look at her bio for more information on the sad event.
July 24
The Romanian team of Oana Ban, Oana Petrovschi, and Larissa Apostal placed first at European Youth Olympic Days
June 16
Romania won over Great Britain at the Dual Meet this weekend. The all around was uncontested, but Loredana Boboc had the highest all around total.
June 13
It was reported that last week that the utilities at the Deva training center were shut off because of unpaid bills equivelant of $70,000. It was said that the gymnasts(including the national team) went without showers for two days. However RGF representative Adrian Stoica disputed the fact that the national team was affected by this. He stated only the gym school was affected, and perhaps Octavian Belu said his gymnasts didn't have water to try and help. Regardless, several newspapers and other sources confirmed that the national team did not have hot water for two days.

May 25
Simona, Maria, and Andreea performed at the Laureus Sport Awards Ceremony in Monte Carlo

May 20
The roster for the ROM vs GBR dual meet in June has been announced. For Romania: Loredana Boboc, Sabina Cojocar, Carmen Ionescu, Andreea Raducan, Monica Sabau, Silivia Stroescu, and Andreea Ulmeanu

April 28
The 2.5 Twisting Yurchenko Vault is now called an Amanar
The Women's All Around Results from the Romanian International are in. Andreea Raducan took first place, followed by Silvia Stroescu. Raducan also took three first places in Event Finals(Vault, Floor, & Beam)

April 27
Along with several gymnasts from guest nations, Oana Ban, Loredana Boboc, Carmen Ionescu, Oana Petrovschi, Andreea Raducan, Monica Sabau, Silvia Stroescu, and Andreea Ulmeanu will represent Romania at the Romanian International(April 27-29). Only the top two Romanian gymnasts' scores will count, and all others will be considered exhibition performances. It's been confirmed that Andreea Isarescu has torn her ACL and Meniscus. She has had surgery to repair her knee, and will miss several months of training time. Andreea injured her knee while vaulting in preparation for the Romanian International.

April 21
Romania and France had a friendly Junior Dual Meet on April 20th. Romania won by over four points. See results at the French Federation.

March 2001
Doctor Cornelia Ionescu left recently, after only one month on the job. For now, there is no team doctor at the national training center.

Octavian Belu announced that he will possibly leave Deva following the Romanian International (April 27-29), if the Federation does not work out money issues. Both Belu and assistant Mariana Bitang have spoken out recently about their lack of pay.

The Romanian girls placed second behind the United States at the Pontiac ATC. They competed without team leaders Andreea Raducan and Andreea Isarescu, both out with minor injuries.

Former Romanian Gymnast Eugenia Popa is engaged to marry a man from Northern Ireland this summer

Sabina Cojocar and Carmen Ionescu, who were previously scheduled to compete in the French International, did not end up attending the meet. The Romanian Federation announced that the gymnasts are not solid enough with the new code of points, however the French Federation claims they were holding out for more appearance money.

Gina Gogean is scheduled to have back surgery on several vertebreas. Her operation will be done by one of the best neurological surgeons in Romania. On a better note, Gina recently passed her international judging exam.

February 2001
Octavian Belu made comments concerning his dissatisfaction with the progress of Olympians Andreea Isarescu and Loredana Boboc. Apparently Belu felt there had been a lack of effort on their parts. This, along with some personal issues were enough to make Loredana Boboc quit the team and return home to Bucharest. Fortunately, she remained their only one week before Octavian Belu convinced her to return to Deva and train with her teammates.

Olympians Simona Amanar, Maria Olaru, Loredana Boboc, Andreea Raducan, and Andreea Isarescu will perform in the 2001 Stars of Romania Tour. Their Sydney teammate Claudia Presacan will not be able to come, as she is now training with the national rowing team. Accompanying them will be juniors Alexandra Barac, Sabina Cojocar, Silvia Stroescu, and Carmen Ionescu. Men's Olympian Marius Urzica will also be on tour.

Andreea Raducan and Sabina Cojocar were accompanied to the medical institution in Bucharest by their new team doctor, because both had hip pains. Raducan was diagnosed with febril lesions and missed one week of training, as well as competing for the Italian Club, Brescia.